I study cartogram design. Cartograms are thematic maps in which the enumeration units (states, countries) are resized based on a particular attribute (population, carbon emissions). There are dozens of types/designs of cartogram and many methods/algorithms for cartogram production.
These have gotten a lot of attention lately (uses the Gastner-Newman diffusion-based algorithm).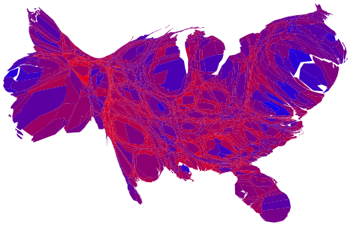 Some cartographers manually tweak their automatically generated cartograms to better preserve shape or topology (from the Dutch company Mapping Worlds).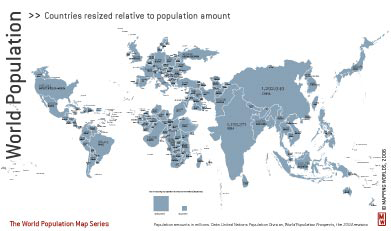 Some preserve shape completely (from the Online Atlas of the Millennium Development Goals also by Mapping Worlds).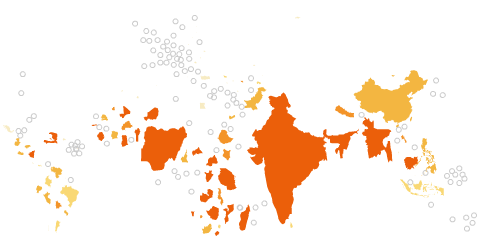 Others abstract enumeration units to geometric primitives (generated by my Python script, based on Daniel Dorling's algorithm).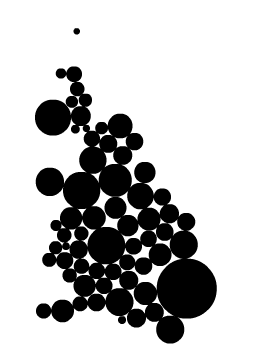 And of course many other designs can be found between these extremes (redrawn from the NY Times' 2006 election results app).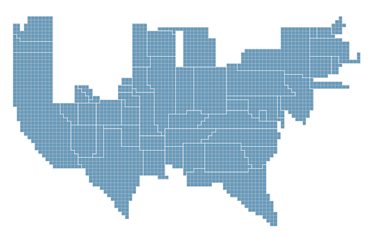 The standard approach to cartogram design is to classify them as either contiguous or noncontiguous (with some adding a pseudo-contiguous category). As the small gallery above illustrates, this is inadequate. It seems to me that cartogram designs vary along three dimensions, and that variation along each dimension is continuous.
Shape preservation — how much the original shapes are preserved on the transformed cartogram (can be quantified with local angles and edge length ratios)
Topology preservation — how well adjancencies are preserved
Density equalization — how accurately unit size represents the chosen attribute
The latter requires perhaps more explanation. Isn't size on a cartogram supposed to perfectly reflect the chosen attribute? Sure, but some recent cartogram algorithms (Gastner-Newman slightly, Kocmoud-House somewhat more) have chosen to allow for some inaccuracy in order to better preserve shape or topology. Since readers can't accurately estimate area anyway, this seems like a fair tradeoff.
To show these continua, and better portray the tradeoffs involved in preserving individual properties, I drafted the Cartogram Cube. It has helped me think through some of these issues while writing my thesis.
Cartogram3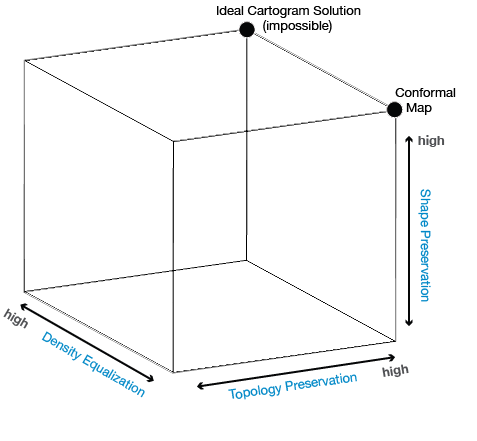 Does any of the above matter? Well, only to the extent that it helps us make better maps. But I believe cartogram effectiveness has a lot to do with these design characteristics, and depends largely on the property tradeoffs made in cartogram design (for manual and algorithmically-produced cartograms). Indeed, this is precisely what my thesis results — to be defended on May 13 — indicate.
More on my actual results later.