The term "heat map" has become increasingly confused. Perhaps it doesn't matter, but for the record the above map is a choropleth map. It's been branded by Google (as one of the Google Gadgets) with the sexier label "heat map", and this (mis)usage is catching on. The term heat map is already equivocal. First, as a non-geographic, non-map representation, the heat map is a treemap-like graphical technique used to represent a two-dimensional array of data.
As a cartographer, though, I've always (well, ok, for a year or so anyway) taken heat maps to be a thematic mapping technique in which a (typically) diverging, (usually) thermal-like color scheme is used to represent density in a continuous fashion. Like the following (from Cartifact's Downtown L.A. homeless map).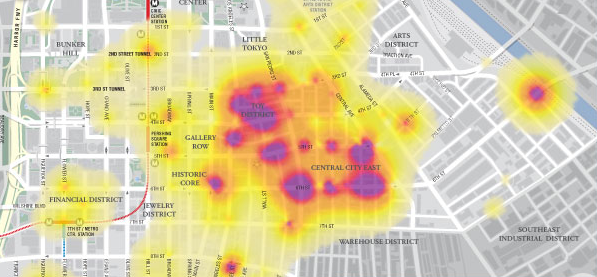 This technique holds the use of color (well, value or lightness really, not hue) in common with choropleth mapping. That is, they share the same visual variable (though, as noted, heat maps almost always utilize a diverging color scheme, in which both hue and value/lightness are varied). The difference is that choropleth maps represent data by enumeration units (countries, states, counties, blocks) while the heat map technique is continuous and not aggregated to enumeration units.
As I say, perhaps it doesn't matter, and I'm not really advocating that Google Gadgets users (and others) learn the term "choropleth map". Indeed, I'd be just as happy with the also-misleading term "color map", as at least it does not already stand for two different symbologies.