update: Here's the dorling.py code, which is just a port of Danny Dorling's C to Python. Remember, this only works with a particular topological input format (see county.in). I've done some more experiments with the circular cartogram algorithm: here, here, and most recently here.
Dr. Daniel Dorling was recently nice enough to provide me with some C sourcecode for producing his circular cartograms. And it works great! I've already ported it to Python and have consumed the result in Flash. Below is a screenshot of a circular cartogram of British population by county. That's after 300 iterations of the algorithm, which took about 2 seconds.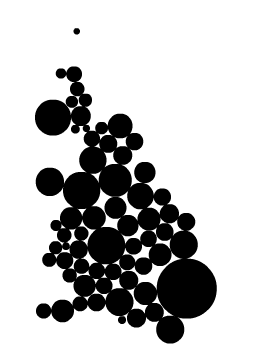 Next step: getting the program to consume shapefiles/DBFs rather than its current proprietary format. This will work its way into something. Stay tuned!